---
---
---

2KDREAMS The youngest team that has participated in the TITAN DESERT.
178 - Arnau Cases, the head of the team. 
179 - Pol Farrando, the craziest rider.
180 - Marc Cases, the mechanical rider.
Thanks to make us live, worry and enjoy this great adventure! a great experience that you will remember the rest of your lives.
Long life to the team! TO BE CONTINUED ...
DREAMS ARE NOT ENOUGH, MAKE THEM COME TRUE!
---
2KDREAMS READY TO ROCK
📣 Son tres amics, que han estat sempre molt units, però cadascú ha apostat per un esport diferent: el Marc per l'esquí alpí, el Pol pel futbol i l'Arnau per les curses per muntanya. L'esport que els uneix i els permet entrenar junts és la bicicleta de muntanya. Plantegen la competició amb molta il·lusió i amb ganes d'aportar cadascú els seus atributs per l'objectiu final, convertir-se en l'equip més jove de la història en ser finishers de la Titan Desert.
Sempre han mirat vídeos de la cursa, del que és rodar pel desert del Sàhara, les haimes, els canvis de temperatura entre la nit i el dia, etc. fins que un dia, entrenant, van dir, i per què no hi anem?
El seu objectiu és acabar, com més endavant millor, però prefereixen no ser tan ambiciosos i assegurar acabar la cursa.
La cursa comença el dia 28 d'Abril! SOM-HI @2kdreams_
---
LA GUILLA SOLIDÀRIA 2nd edition
Come and meet with us!
March 31, 2019 in Santa Eugènia de Berga.
We will be pedaling with all MTBikers. So, you can test our bikes and know us a little more :)
You can choose two distances: 33km +1000m ascent or 10km 150m ascent.
---
2000 SOMNIS - THE YOUNGEST TEAM THAT EVER PARTICIPATE IN TITAN DESERT 2019
A team of friends that they must prove their abilities to overcome the hardest conditions in the desert during 6 days.
Their objectives are: Be the youngest team that ever participate in Titan Desert, Living the best experience and Get FINISHERS at one of the hardest MTB races in the world.
Dates of the race: 28 april - 3 may of 2019 (Morocco, Sahara Desert)
This team will ride in the desert the PYRMON PICA (custom) 
A project of: Arnau Cases (Trail), Marc Cases (Sky) i Pol Farrando (Futbol).
---
THE SINGLE LEG MULTI LINK SUSPENSION FORK
Very light, only 1.370gr / Anti-dive system / Low maintenance / 100mm travel / Allows the regulation of progressivity / The fork with the lowest friction / Adaptable to all wheel blocks and diameters / Angle of progressive attack that allows to better overcome obstacles / It improves the sensitivity in the absorption of obstacles, and above all it allows to minimize the resistance to rolling on irregular surfaces.
HANDMADE in BARCELONA, CATALUNYA
Powered by: PYRMON
Product manager: Marc Ordi
Test rider: Roger Tuneu
---
THE HARDEST MTB RACE 21 - 28 July of 2018
It's not a race for everyone, it's not a race for superheroes, it's a race for unconscious people who want to survive in an extreme adventure in the Alps. They have to overcome the extreme stages, characterized by extreme unevenness and impossible paths. The cyclist put to the limit the physical and mental capacities and the machine that they transport.
LIMONE PIEMONT, ITALY - MARITIME ALPS 
7 STAGES + 1 PROLOGO - 700km +26.000m 
Riders: El viejo rockero: Joel Bernades - El foll: Roger Tuneu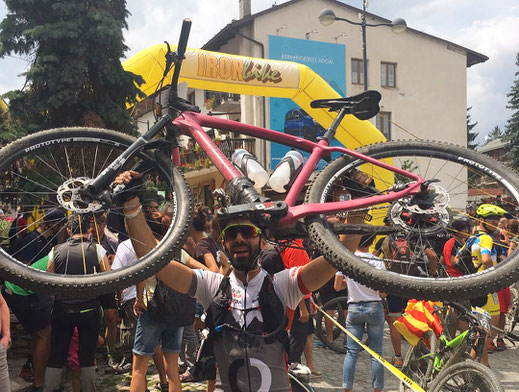 ---
DESERT MTB RAID ADVENTURE 29 April - 5 May of 2018
The Gaes Titan Desert by Garmin is a long-distance race open to all fans of cycling, sports and self-sacrifice. It is above all an event that requires a desire to excel and a love of challenge: the challenge of achieving what few people in the world have managed to achieve to confront the desert, the extreme heat and the grueling distances under the worst imaginable conditions.
MERZOUGA, MOROCCO - SAHARA DESERT 
6 STAGES - 620km +7.200m
Rider: Roger Tuneu